"The continuity in football can be really successful. This is the reason we decided to continue with the great manager we have and we decided to have continuity with the core of the squad we think can be necessary for us. This is our value for the next season, the continuity."

Leeds United's Director Of Football- Victor Orta

The Team Work Index explains one of the reasons Leeds United are one of the best teams in the Championship and have been consistently successful for the last two seasons. Different teams find their own edge in different ways. As Orta has stressed over and over again, ours is continuity.
What is the Team Work Index: GAIN LINE Analytics has developed a unique metric, the Team Work Index (TWI®), for measuring the quantity and intensity of linkages within a team. The higher the metrics, the more Cohesive the team, the more likely the organisation is to enjoy sustained success in their specific field. The Team Work Index initially had three measures, internal experience, external experience and externally shared experience. Then Ben Darwin, the founder, added more measures like playing system, combinations and skillsets. This makes for a better and more robust metric. Put simply, the higher a sides Team Work Index and cohesion, the more unified the team, the more likely the club is to enjoy sustained on-field success and off-field stability.
Long Term Vision: In Bielsa's first season at Leeds United, everyone was shocked as suddenly Leeds went from 13th placed to automatic promotion candidates. This was without lots of new signings but, a key managerial one, Bielsa. This appointment was part of Andrea Radrizzani and Victor Orta's long term vision. When a club has a set vision and makes signings and changes with those in mind then this will lead to long term stability and success.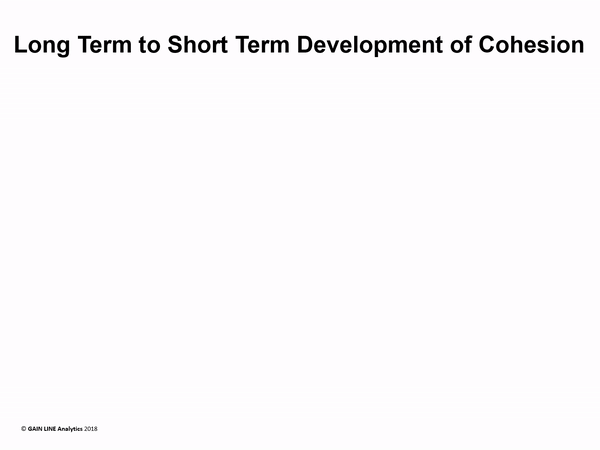 How Bielsa Improved Cohesion: As soon as Bielsa came into Thorp Arch in the summer of 2018 the revolution began. He oversaw changes to the training ground such as a communal area for first-team players and sleeping pods, to cope with the three-session days in pre-season. This meant players were always at Thorp Arch and were constantly around each other. Creating better relationships and understanding between players which leads to improved cohesion.
Lyttleton states in EDGE that another way to build cohesion is by "not changing systems and line-ups all the time". Anyone who has watched Leeds United over the last two seasons will tell you that this is the case. Bielsa never wavers when it comes to his system, he lives and dies by it. Line-ups also hardly ever change, unless forced through suspension or injury. This creates a very high level of on the field understanding between the starting players. As they are all a custom to each others playing style and skillset. In some cases, Darwin "saw that the levels of understanding between team-mates impacted on performance between 30-40%".
Players must also fully understand Bielsa's system before playing. In the summer of 2018, Jansson was considered our best player. He went to the world cup with Sweden. This meant he returned to training a week or two after the rest of the squad. So when the season started he was weeks behind the other players in understanding the playing style. So Bielsa started Berardi, a considerably worse option, instead of Jansson for the start of the season. It does not matter how good a player is if they do not have a 100% understanding of Bielsa's tactics. This is so the whole team can operate effectively and smoothly. Like a well-oiled machine. Flash forward to February 2020. Leeds United's new star striker Jean-Kevin Augustin has been left out of the squad for his first two games. This is for a reason. Bielsa's style of play demands everyone to be on the same page. What move one player makes directly affects the other. This is why Augustin is not currently starting. He must understand the whole system as what he does upfront effects the play of every other player on the pitch. "Signing players of higher quality will increase team quality but will reduce team cohesion" Dr Bill Gerrard, Professor of Business and Sports Analytics at Leeds University.
Orta's Recruitment Strategy: "At the root of Darwin's philosophy is the belief that high turnover of players reduces cohesion" Ben Lyttleton, EDGE. The images below show the squad turnover of Championship teams. On the right is Bielsa's first summer in charge and on the left is from the summer just been. As you can see in Bielsa's first year most of the deadwood was gotten rid off and only one key player left. The core squad still remains and continuity was our edge going into the season. Player's were also brought back on loan like Harrison and Clarke. We had the second-lowest squad turnover this summer. Jansson, Roofe and Peacock-Farrell the three significant departures. We were only behind Preston as you can see on the left. This meant Leeds cohesion was barely reduced and Orta's calls for continuity were answered.
Squad Turnover From The 2018/19 Season Into The 2019/20 Season

Squad Turnover From The 2017/18 Season Into The 2018/19 Season
No one else had spotted or was talking about Ben White before his move to Leeds United on loan. Darwin says "You might be judging talent on the wrong standards if they are coming in from a different system to yours. New people may be indoctrinated into other systems. It's more important to think about if your new hire is a good person – can they adapt to your system? and remember that the younger they are, the more adaptable they are". Orta clearly saw White had the necessary skillset to fit into our playing style. This meant we were able to pick up an undervalued talent on loan as in other systems he was not being used at his best. White came in as an unknown but is now being talked about as arguably the best centre-back in the Championship. This is due to Bielsa's playing style fitting Ben White's skillset perfectly.
The Academy System And The Integration Of Academy Players: One of the initial measures of the Team Work Index was internal experience, which could mean in the youth academy. Carlos Corberan, The head coach of the under 23's, does an amazing job of replicating the first team playing style with the U23's. This makes their transition into the senior squad seamless. This is key as Bielsa operates with a very small squad, relying on the academy players for depth and cover. This is often the case as in Bielsa's short year and a half tenure he has already handed out eleven first-team debuts including Shackleton and Clarke. The under 23's often train with the first team. So they are familiar with the starting players style and abilities.
Conclusion: As you can see through looking at all the measures and ways Leeds United, Bielsa and Orta have improved cohesion, it becomes apparent where Leeds have achieved their edge. Darwin also says "The Championship is one of the lowest Cohesion competitions we have measured so it sometimes comes down to a skill shoot out, however it doesn't take much for a team get above the pack using Cohesion". As you can see with the sustained success Leeds have had over the last two seasons always being in or just under the automatic places. This is not solely due to the cohesion of the team. But make no mistake it is a reason and has had a big impact. Even though West Brom, Fulham and Brentford may have better players on paper. Cohesion makes up for that and bridges the skill gap. This is why our players have overperformed. Klich and Cooper are examples of this. The right system and club suiting a player and leading them to play beyond their means.
Thanks to Ben Lyttleton who's book "EDGE" gave me the inspiration for this piece. Thanks to Ben Darwin and Simon Strachan who founded GAIN LINE Analytics. The Team Work Index & TWI® is a GAIN LINE Analytics registered trademark and part of Cohesion Analytics. Also, credit to @experimental361 for the squad churn image used.
Written By TheYoungPeacock, Thanks for reading.